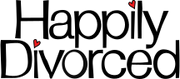 Happily Divorced is an upcoming situation comedy television series on the American television network TV Land. The series was created by Fran Drescher and her ex-husband, Peter Marc Jacobson, and is based on their life together. Happily Divorced is scheduled to debut on June 15, 2011.[1]
Drescher plays a Los Angeles florist who discovers that her realtor husband of 18 years (John Michael Higgins) is gay. She struggles with navigating the new parameters of their relationship while re-entering the dating pool.[2]
Announced cast includes:[3][4]
Development and production
Edit
Happily Divorced is based on the real lives of series creators Fran Drescher and Peter Marc Jacobson, who had been high school sweethearts and then married in 1978. They divorced in 1999. Jacobson later came out as gay to Drescher and the two remained friends.[5] In 2010 the pair, who had previously created Drescher's earlier series The Nanny,[6] began developing the series based on their life experiences. Initially Drescher planned only to write and produce Happily Divorced but eventually decided to star as well. TV Land gave the green light to a pilot episode in November 2010.[7] The network announced on March 21, 2011, that the series had been picked up with a ten-episode order.[1]
References
Edit
↑ 1.0 1.1 [http://www.broadcastingcable.com/article/465599-TV_Land_Greenlights_Two_New_Sitcoms.php TV Land Greenlights Two New Sitcoms, March 21, 2011, Andrea Morabito from, Retrieved March 30, 2011
↑ New TV Land sitcom for "Nanny" star Fran Drescher (Dead link March 2011)
↑ AfterElton Briefs: Daniel Radcliffe is a Hero, Chord Overstreet's Tight End, Introducing Fran Drescher's Gay TV Ex, and More!
↑ TV Land Orders 10 Episodes Of Fran Drescher's Happily Divorced (On Top Magazine), 2011-02-22. Retrieved 2011-03-30
↑ Fran Drescher's 'Happily Divorced' Close To TV Land Pickup, Jordan Zakarinof the Huffington Post. Retrieved March 30, 2011.
External links
Edit