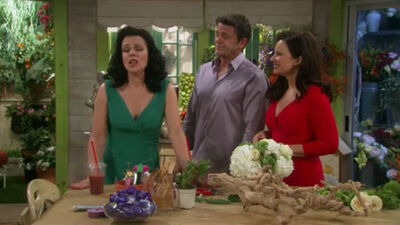 The Back-Up Fran is the fifteenth episode of the second season of Happily Divorced. It aired on December 12th, 2012.
Peter is reluctant about Fran moving out after her impending wedding, even hesitant to sell them a home. That changes once he finds a new house-mate, virtual Fran-clone Jan.
Meanwhile, Jan renders the real Fran jealous enough for a cat-fight to chase her younger 'rival'.
Elsewhere, Peter's indignation soon ceases when Fran convinces Cesar's studly cousin, clueless novice gay bar man Enrico, to move in.